Party recipes and potluck recipes are useful things to have around. There are plenty of occasions for barbecues and picnics in the summertime, and   when you are invited to one of  these parties, it is very common to bring along a dish to pass.  Trying to figure out what to make and bring, can be a tricky business.  As a suburban mom of three, I have been to more parties, potlucks, school functions, holiday gatherings etc. than I can even recall.  All of these recipes are tried-and-true crowd-pleasers, guaranteed to make your contribution the star attraction at whatever event you are attending.
Spinach Artichoke Dip
Ingredients:
3 cans quartered artichoke hearts – finely chopped
2 packages frozen spinach, thawed and drained
½ bunch green onions – finely chopped
½ cup mayonnaise (more or less to taste)
1 jalapeno pepper (canned) chopped finely (seeds removed)
½ small jar roasted red pepper, drained and chopped
4 oz. freshly grated Parmesan cheese
Directions:
This one is as easy as it gets.  There are two ways to prepare this, one involves a food processor, and the other is to do it by hand.  If you have a food processor, you don't need to chop anything; throw everything in a food processor and pulse until ingredients are finely chopped and combined.  If you don't have a food processor, simply chop the artichoke hearts, peppers, and green onions and combine in a bowl.  Refrigerate for a minimum of two hours to let the seasonings, and ingredients blend.
Scalloped Corn
credit: Kuner's Foods
Ingredients:
2 boxes cornbread mix – I highly recommend Jiffy brand
2 can creamed corn
2 can corn niblets, undrained
4 eggs, beaten
2 C. sour cream
1 C. butter, melted
Directions:
1.  Combine eggs, sour cream, butter, corn, and creamed corn in a large mixing bowl.  Stir until all ingredients are well blended.  Add the cornbread  base and mix well.
2.  Pour into greased 9″x13″x2″ greased casserole dish.
3.  Bake in 375º oven for 40 minutes, or until center no longer jiggles when dish is shaken.
Cold Sesame Noodles
Credit: Hali Miller
Ingredients:
5 tablespoons sesame seeds
1 tablespoon dark sesame oil
5 tablespoons soy sauce
1/4 cup peanut butter, preferably chunky
2 tablespoons rice vinegar
2 tablespoons light brown sugar
1 tablespoon grated ginger
2 garlic cloves, minced
1 teaspoon hot sauce (I use Sriracha)
1/2 cup hot water
1 pound fresh Chinese egg noodles (or linguine)
4  green onions, sliced thin
½ lb. (approximately 2-3 handfuls) snow peas – ends trimmed
1 medium carrot, peeled and grated – I cheat, and use 1/2 a bag of matchstick carrots (shhhh….don't tell)
1 red bell pepper, stemmed, seeded, and sliced thin
Directions:
1. Toast the sesame seeds in a small skillet over medium heat, stirring, until golden and fragrant, about 10 minutes. Reserve 1 tablespoon of the sesame seeds. Puree the remaining 4 tablespoons sesame seeds with the soy sauce, peanut butter, vinegar, sugar, ginger, garlic, sesame oil, and Sriracha in a blender or food processor until smooth, about 30 seconds. With the machine running, add the hot water, 1 tablespoon at a time, until the sauce has the consistency of heavy cream (you may not need all the water).
2. Cook the noodles in 6 quarts boiling water seasoned with the salt until tender, about 4 minutes. Drain and rinse under cold water until cool. Shake out the excess water and transfer to a large bowl. Add the scallions, carrot, red pepper, and sesame sauce and toss to combine. Arrange on a serving platter (or divide among individual bowls) and sprinkle with the reserved sesame seeds.
If you put lots of extra veggies in it, like I do; I would recommend making the sauce at 1 ½ times the amounts above.
Pasta Salad with Pesto
Credit: MYRECIPES
This salad is best served the day it is made; if it's been refrigerated, bring it to room temperature before serving. The pesto can be made a day ahead–just cook the garlic cloves in a small saucepan of boiling water for 1 minute. Garnish with additional shaved or grated Parmesan.
Ingredients:
3/4 cup pine nuts
2 medium cloves garlic , unpeeled
Table salt
1 pound pasta (whichever you prefer)
1/4 cup extra virgin olive oil plus 1 additional tablespoon
3 cups packed fresh basil leaves (about 4 ounces)
1 cup baby spinach (packed), about 1 ounce
1/2 teaspoon ground black pepper
2 tablespoons fresh lemon juice from 1 lemon
1 1/2 ounces finely grated Parmesan cheese (about 3/4 cup), plus extra for serving
6 tablespoons mayonnaise
1 pint cherry tomatoes , quartered, or grape tomatoes, halved (optional)
Directions:
1. Bring 4 quarts water to rolling boil in large pot. Toast pine nuts in small dry skillet over medium heat, shaking pan occasionally, until just golden and fragrant, 4 to 5 minutes.
2. When water is boiling, add garlic and let cook 1 minute. Remove garlic with slotted spoon and rinse under cold water to stop cooking; set aside to cool. Add 1 tablespoon salt and pasta to water, stir to separate, and cook until tender (just past al dente). Reserve 1/4 cup cooking water, drain pasta, toss with 1 tablespoon oil, spread in single layer on rimmed baking sheet, and cool to room temperature, about 30 minutes.
3. When garlic is cool, peel and mince or press through garlic press. Place 1/4 cup nuts, garlic, basil, spinach, pepper, lemon juice, remaining 1/4 cup oil, and 1 teaspoon salt in bowl of food processor and process until smooth, scraping sides of bowl as necessary. Add cheese and mayonnaise and process until thoroughly combined. Transfer mixture to large serving bowl. Cover and refrigerate until ready to assemble salad.
4. When pasta is cool, toss with pesto, adding reserved pasta water, 1 tablespoon at a time, until pesto evenly coats pasta. Fold in remaining 1/2 cup nuts and tomatoes (if using); serve.
Red-skinned Potato Salad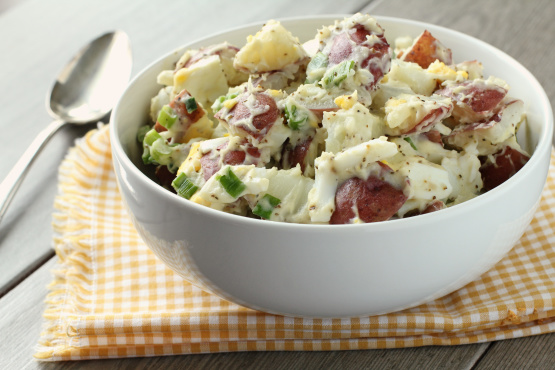 credit: Genius Kitchen
Ingredients:
2 lbs. red potatoes
6 eggs
1 lb. bacon
1 onion, finely chopped – either a Vidalia, or a red onion works best
2 stalks celery, finely chopped
1 c.  mayonnaise
1 c. sour cream
salt and pepper to taste
Directions:
1.   Bring a large pot of salted water to a boil. Add potatoes and cook until tender but still firm, about 15 minutes. Drain and set in the refrigerator to cool.
2.   Place eggs in a saucepan and cover with cold water. Bring water to a boil and immediately remove from heat. Cover and let eggs stand in hot water for 10 to 12 minutes. Remove from hot water, cool, peel and chop.
3.   Place bacon in a large, deep skillet. Cook over medium high heat until evenly brown. Drain, crumble and set aside.
4.   Chop the cooled potatoes, leaving skin on. Add to a large bowl, along with the eggs, bacon, onion and celery. Add mayonnaise, sour cream, salt and pepper to taste. Chill for an hour before serving.
Cowboy Caviar
credit: Tasty Kitchen
Ingredients:
2 tbsp. red wine vinegar
1/3 c. lime juice
2 tsp.  hot sauce
2 tsp. salad oil
1 clove garlic, minced
1/8 tsp. pepper
1 Avocado (about 10 oz.)
1 Can (15 oz.) black-eyed peas
1 Can (11 oz.) corn kernels
2/3 c. thinly sliced green onions
2/3 c. chopped fresh cilantro
1/2 pound Roma tomatoes, coarsely chopped
Salt – to taste
1 bag (6 oz.) tortilla chips or 2 cups finely shredded cabbage
Directions:
1. In a large bowl, mix vinegar, hot sauce, oil, garlic, and pepper. Peel, pit, and cut avocado into 1/2-inch cubes. Add to vinegar mixture and mix gently to coat.
2. Drain and rinse peas and corn. Add peas, corn, onions, cilantro, and tomatoes to avocado; mix gently to coat. Add salt to taste. Serve pea mixture with chips as an appetizer, or add cabbage and mix to make a salad.
Asian Coleslaw
credit: Kraft Recipes
Ingredients:
1 lb. pkg. coleslaw mix
1 pkg. matchstick carrots
1 pkg. shredded purple cabbage
2 pkg. chicken Ramen noodles
1 bunches chopped green onions
2 c. roasted sunflower seeds
1 can mandarin oranges, drained (optional)
1 c. oil
3/4 c. sugar
1/3 c. vinegar or rice wine vinegar
2 Ramen seasoning pkg.
Directions:
Once again – easy breezy,  toss all of the veggies in a bowl and give it a stir.  Prepare the dressing by combining the last four ingredients in a bowl, (or in a covered jar, which makes for handy storage.)   Add sunflower seeds, mandarin oranges and dressing  just before serving.
Broccoli Salad
Ingredients:
1 bunch broccoli (flowerets only) in small pieces
1 cup sunflower seeds
1 bunch chopped green onion
½ cup of raisins
½ c. chopped celery
½ lb. Crumbled bacon
1 can Chinese rice or chow mein noodles
1 cup mayo
2 tbs. White vinegar
¼ c. sugar
Directions:
Mix salad ingredients,  except for the last three ingredient (combine these separately  to create a dressing.)  Toss the salad with noodles and dressing just before serving.
Jello Cake

credit: Lil' Luna
1 pkg. of your favorite vanilla cake mix
1 pkg. jello – use whatever flavor you prefer, I have tried many, and found the most successful flavors to be:  strawberry, raspberry, lime, or orange
1 c. boiling water
Frosting
1 pkg instant vanilla pudding
1 c. milk
2 c. whipped topping (e.g. Cool Whip)
Directions:
1.  Bake cake in a 9 x 13 pan, according to directions, and allow to cool completely (at least one hour.)
2.  Boil water and combine with jello – set aside and allow to cool to room temperature.
3.  Poke holes in the cooled cake with a bamboo skewer, and gently pour jello over the top of the cake.  Refrigerate for at least an hour.
4.  Prepare frosting by combining pudding and milk in a bowl, and allow to set.  Gently fold in whipped topping, until thoroughly combined.
5.  Frost and serve!
No-Cook Banana Pudding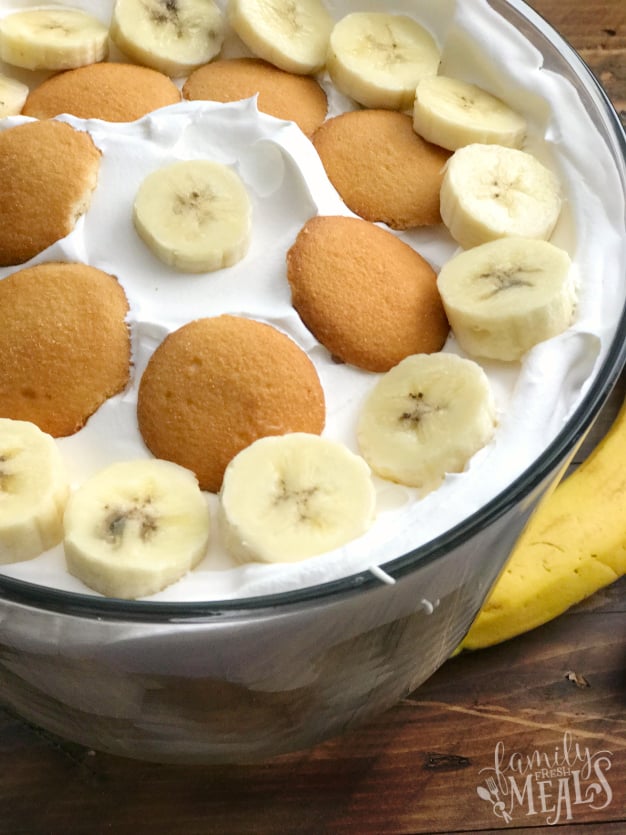 Ingredients:
1 (8 ounce) package cream cheese
1 (14 ounce) can sweetened condensed
milk
1 (5 ounce) package instant vanilla
pudding mix
3 cups cold milk
1 teaspoon vanilla extract
1 (8 ounce) container frozen whipped
topping, thawed
4 bananas, sliced
1/2 (12 ounce) package vanilla
Directions:
1.   In a large bowl, beat cream cheese until fluffy. Beat in condensed milk, pudding mix, cold milk and vanilla until smooth. Fold in 1/2 of the whipped topping.
2.   Line the bottom of a 9×13 inch dish with vanilla wafers. Arrange sliced bananas evenly over wafers. Spread with pudding mixture. Top with remaining whipped topping. Chill.