There are so many ways that people find inspiration and ideas for decorating cakes! Cakes and video games are two of life's many delicious guilty pleasures. Together, they make a lethal combination of edible fun. Making a video game cake or ordering one can be complicated and expensive, but always worth the trouble. The marriage of video games and cakes can bring unforgettable enjoyment and amazement. Just think of the possibilities! I've found some fantastic examples of cakes that represent just a tiny fraction of what can be imagined in the realm of video game cakes. Here is our top ten list, some of which are jaw-droppingly amazing.
1.  The Littlest Pet Shop Cake
If you have a 4 to 8 year old daughter, chances are, she is obsessed with the Littlest Pet shop toys and most definitely the video game. If you're having a birthday party, you can either spend a pretty penny on a wild cake such as the one above, or you can summon the time and energy to make the cake yourself. I recommend a white sheet cake with strawberry cream for the insides and lots of food coloring and toys for the frosting and decorations. Not impossible, but time consuming.
2.  World of Warcraft Cake
If you are attending a "World of Warcraft" gaming party with your uber-geeky friends, you probably don't bake. In fact, those at the gathering will probably not be expecting a cake. Beer and pizza will probably do, but hey, maybe it's someone's birthday or the anniversary of the release of the original version of the game or the day of the release of the fifth expansion set of the game (the fourth was just released on April 1st), you could think of impressing people by arriving with something like the chocolate buttercream frosted red velvet cake pictured above. This cake is my favorite example taken from hundreds of "World of Warcraft" cake examples one can find online. Also, surprisingly (or not), many wedding and groom cakes are "World of Warcraft"-themed these days, as the online multiplayer game has broken worldwide subscription records in the past few years. The wedding cakes are proof that video games really bring people together!
3.  Angry Birds Cake
Note: What you see above are edible cake toppers…. to an Angry Birds cake! The fantastic Artisan Cake Company in Portland made these toppers and can make you beautiful cakes to go with them. But guess what? The hottest, silliest most addictive game on phones and IPads everywhere right now can be played, yes, recreated and PLAYED by you in your own home! It doesn't matter who you are or how old you are. This is hands down the coolest marriage of a video game and a cake ever. Check out this video. Yes, a picture does not do this justice:
It's an "Angry Bird" cake that you can play and eat!!! A dad created the cake in the video for his son's 6th birthday, and the creators of the game even tweeted about it, when the video went viral! Check out our next cake for another example of how cakes can be interactive.
4.  Tetris Cake
Here, we have a Tetris cake with spaces and pieces sticking out of it, so that the puzzle must be solved to complete the three levels of cake. Watch the levels then disappear as the completed lines are eaten! Haha! An interactive wedding cake is really a fun idea, since every wedding has the compulsory photo of the happy couple eating their first bites of cake together.
5.  Warhammer Cake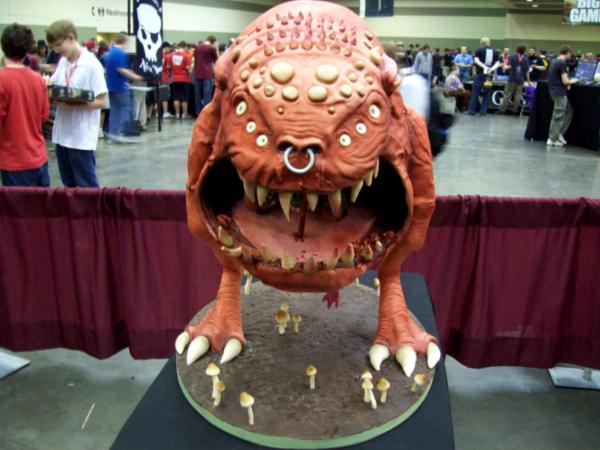 Okay, so this doesn't look like a cake, but it is one! Chef Duff of Charm City Cakes in Baltimore baked this squig herder cake for the Games Workshop's Games Day in 2009. Squig herders such as the one featured above are characters in Mythic Entertainment's popular Warhammer Online game. According to the blogs and press about this cake, it was a huge hit, was later featured on an "Ace of Cakes" episode, and was thoroughly enjoyed by gamers at the event.
6.  Mario Cake
This wedding cake is featured on a number of blogs and sites devoted either to video games or cakes or both, as an outstanding example of a cake featuring Nintendo's Mario and Princess. This cake has elements and characters mostly from Mario Kart, but also from other versions of Nintendo's classic Super Mario Bros. game. This cake is 100% edible, according to its creators at the "Let Them Eat Cake" bakery in Costa Mesa, CA, unlike a lot of fancy pants cakes that are supported with wood or Styrofoam.
7.   Legend of Zelda Cake
Launched along with the Nintendo Wii console and ranked as one of the best Zelda games ever created, Nintendo's "The Legend of Zelda: Twilight Princess" has led cake makers to yield some outstanding creations. The game's hero is Link, featured in the cake above in both human and wolf form. This cake, or one like it, would make any Zelda fan happy!
8.  Katamari Damashii (a.k.a Katamari Damacy) Cake
This cake is an homage to the Japanese game Katamari Damashii released on the PS2 back in 2004 as Katamari Damacy. The possibilities for turning this game into different cakes are endless, since the game is all about rolling over stuff to get really big in order to recreate the stars and planets that have been destroyed by the King of All Cosmos. This is just one fun and well executed example of a scrumptious possibility!
9.  Pac Man Cupcake
First, this is a cupcake, and not a cake. This is on the list because of the iconic status of Pac Man in the history of video games, because it looks truly easy to make, and because it would bring a smile to anyone's face, just as the game always has. I'm guessing it's a chocolate cupcake with marzipan characters, and done! Fun and yumminess delivered! I'm sure I'm not the only one wondering… why didn't I think of that?
10.  Mii Cupcakes!

These cupcakes are amazing and look surprisingly delicious! They were created as a contest where people had to guess which Mii represented the baker. The prize was a Wii console. Even though the Miis above don't come from a particular video game, they fit the category since Miis appear in most Wii games. I wanted to use them as a conclusion to this post to show how personal touches on creative cakes illustrate exciting developments in the video game world.